How Big is BIG?
Mike & Timothy expand to Andalusia, Spain

The impact of taking on a BIG project.
The longer we paint and create, the more adventurous we get. I am no exception to this. If I am looking for something fun and quick I pick up a small prepared canvas, of 30x40 cm (about 12 x 16 inches) and just play for an hour or a day. But I have found that I enjoy painting much larger, and my favorite size over the last couple of years has been about 1x2 meters (about 3 to 4 feet wide and 7 feet tall). This allows me to paint life-sized people. This format feels right for me, and I love the results.
HOWEVER ... more recently I picked something just a bit bigger, well actually a lot bigger: a 6,000 square foot plot of land, the residential lot we purchased in Spain almost three years ago. This has been my art project of choice for the last 36 months. Working with a local Spanish architect for over 6 months, and then seemingly endless building efforts to create a living and working space that meets our dreams and requirements in Spain. Creating something different, something unique, something Artistic. This has not been an easy project, and although we now can live, eat and sleep in the project, it is still a long way from being finished. My projection is 5 to 10 years to fully complete the vision of this project, and it truly is an art project. I want so much of the project to be hand-made and inspired, and I am using the house as a canvas for art.

The shape and design of the house was created in a unique way to take advantage of the nature park that rests alongside the property and projects out miles in front of the house. The Mediterranean sea is in full view, with the Atlantic meeting the Mediterranean in the Gibraltar straight. In the distance we view Morocco, and this view is continually changing with the movement of ships throughout the day. The soft sounds of the ocean waves and the occasional sound of cow bells from the local farmer are our only interruptions, giving us the solitude to explore, create, and blend into nature; this accelerates our creative processes dramatically.
Many sub-projects are well underway such as the private front garden area, however many spaces have been left blank to be finished over time: wall insets for future mosaics, the rooftop terrace for an outdoor living space with views of Morocco, platforms for forthcoming sculptures, places for hand made tiles to be installed, and walls for painted murals both inside and outside of the house. It is a project in constant change, a veritable canvas in which to live!
I believe that creating a painting for a wall is important: stating that it is yours, and sharing it in your home with others is important. But creating an entire house as an art project, well that is somewhat crazy: it is a huge undertaking filled with many sleepless nights, but also a satisfaction that is the ultimate for an artist.
As we live in this 21st century of fast, quick and easy access to cheap imported goods, many people turn to this and assume that there is nothing original, nothing unique, nothing rich, and nothing truly creative in their lives. Being artists allows us to push the boundaries and go where others would not even think of going.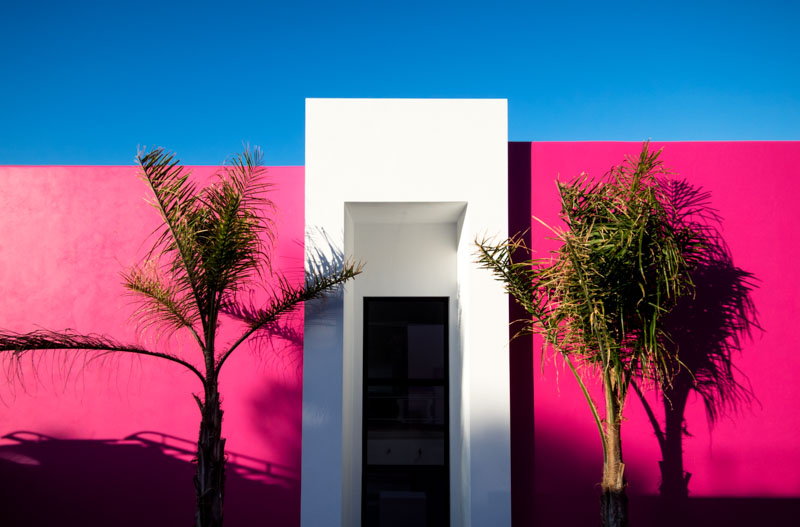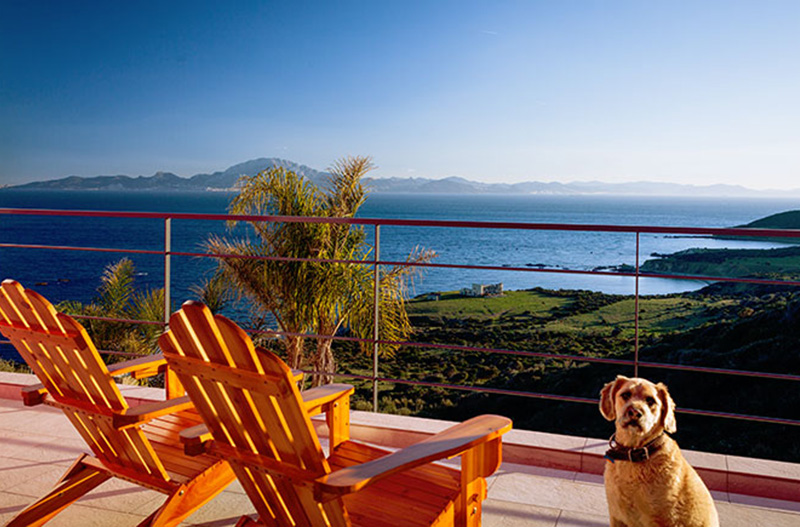 I must say that this challenge has been overwhelming, but the results are immensely gratifying. And now that the house is livable, including my art studio on the top level with a huge skylight located in the center and a wall flush with light and sea views, I am ready to start teaching art classes in Spain. I have a class scheduled for the end of October in the South of Spain, and will have two classes this Winter and early Spring 2019. And we have already booked a private retreat for one-on-one study with former students.
Our house in France is still open for our popular summer painting retreats, but now you can also come to south of Spain in Winter and enjoy the sunshine, beaches and a week of painting with me, with Spanish-inspired meals by Timothy, and of course the trip would not be complete without our dog Picasso to help keep you company.
Whatever your creative project, you just have to imagine it, plan it out and then make it happen, large or small. But you must do it: you must be creative and allow yourself the opportunity to forget life, remove yourself from the news, politics and family distractions, and melt into the creative side of life. Let us show you how to stimulate your creativity, open your mind, invent, explore and get lost in the painting process. Come create with us in Spain, we are ready for you!
All My Best, and Happy Painting!
---